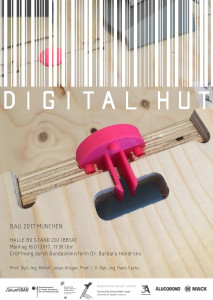 Within the framework of the research project 'Digital Hut' and in cooperation with the Wismar University of Applied Sciences, responsive design studio presents a prototype of a digitally designed and fabricated minimalist housing unit- the 'Digital Hat'. The prototype will be exhibited on the booth of the 'Initiative Zukunft Bau' under the leadership of the German Federal Institute for Building, Urban and Space Research. The project is supported by 3A Composites AG, the Hochschule Ostwestfalen-Lippe and Mack GmbH. The 'Digital Hut will be shown from 16.1.-21.1. at the BAU (Trade fair munich) in hall B0, stand number 202.

CONTEXT
Against the backdrop of the rapid development and spread of digital technologies, we are increasingly challenged to reform social, economic and political strategies in the future. At increasingly shorter intervals, there is a growing scope for innovative concepts in the interaction of people and objects, intelligent automation and individualization in production.
GOAL
The aim of the research project was to design and produce a "minimal house prototype" using digital technologies in development and production. In the multi-phase project, digital production methods were used to develop a variable and reduced light construction system, which was configured by the user himself without the use of complex tools
(Per app) and can be built. Through the use of innovative material processing and the use of sustainable building materials in combination with an adaptive spatial concept, particular efforts were made to meet the requirements of a mobile and networked society. This is mainly about the connection of (software) interfaces: the collaboration of the users (principles of "Open Innovation" and "Mass Customization"), the local, digitized production and the individually adapted design / production of high-quality rooms.
METHODOLOGY
The "Digital Hut" is an experimental kit for digital building planning. The building system is in a permanent process of transformation, as users are an important part of the development process. The high adaptability results in a large number of possible applications, such as the re-compacting of unused urban areas or the use of temporary buildings as a source of inspiration for sustainable and innovative architecture.