Studio Profile
responsive design studio is a creative design and architecture firm, based in Cologne, Germany. According to the principle 'thinking by making' the studio not only designs but also develops and manufactures products, art installations and architecture.
As design studio we have a special focus on interaction and identification of the user with his built environment. The goal is to stimulate and enable participation and integration of the customer or user in the process of creation as well as in the the final use of objects and space.
We love to develop responsive, dynamic designs for highly complex architectural structures, that could simply not be produced without digital design tools and CNC-production, as well as simple, clear design solutions for specific applications.
As manufacturer and programmer we fabricate designs and prototypes ourselves: from small, printed 3D design prototypes and models up to the architectural scale within a wide range of CNC and robotic production applications. Over the years we have also built a strong expertise in computational design and production of large scale art installations, experimental design and architecture, exhibition and trade fair stand design, product design and CAD/CAM prototyping and we love to share our experience and knowledge with our customers.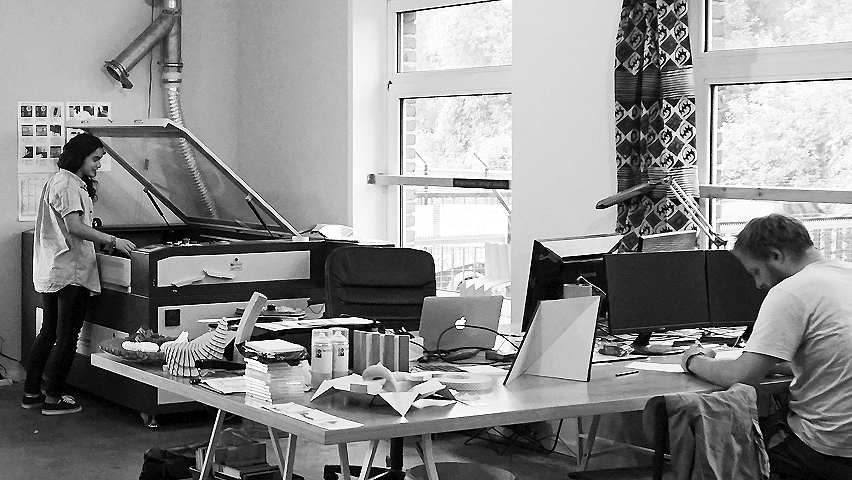 Former Partners
Christine Baumgartner (2010-2014)
Former Interns
Ioulia Marouda (2017)
Benjamin Kemper (2015)
Carolina Menezes (2014/2015)
Johann Eckartz (2013)
Shehrazade Mahassini (2013)
Contact
Thanks for taking the time to contact us!
We will do our best to respond in due time.
Currently our team is big enough and we do not employ anyone.
Address
Bonner Wall 27
50677 Cologne, Germany
Tel    +49 (0) 221 640 007 500
Fax   +49 (0) 221 640 007 509