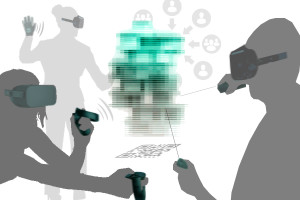 The Professorship of CAD, under the current management of Hans Sachs (responsive design) of the Faculty Detmold School of Architecture and Interior Architecture, receives 47,000 euros in the fellowship program of the Ministry of Science and the Founders' Association. The teaching will benefit from this – among other things by the procurement of virtual reality glasses as well as PCs and 3D modeling software.
A new Fellowship program supports 46 teachers in the introduction of innovative digital teaching projects at universities. Among them is Visiting Professor Hans Sachs of the University of Applied Sciences OWL. For the implementation of his concept at the Department Detmolder School of Architecture and Interior Architecture, the CAD holder receives just under 47,000 euros. The Fellowships are annually published. In all, scientists from 20 universities in NRW had applied.
With a total funding of two million euros annually, the Founders' Association and the NRW Ministry of Science and Humanities want to enrich and promote digitalization in teaching through exemplary concepts. "Digitization extends the possibilities in teaching. Personalized teaching formats and the flexibilisation of studies are particularly beneficial to students who are studying in parallel to a professional activity or family commitments. Thus, digitization contributes to more educational equality in our country, "said Minister of Science, Svenja Schulze, in a press release.
Prof. i.V. Hans Sachs had applied with the project "Industry 4.0 in Teaching – Cooperative Designing in Virtual and Networked Spaces". In the context of the industrial 4.0 movement, digital technologies are currently being established in the development and manufacture of industrial and craft products. Architecture, design and production processes are also fusing with automation and digital networking. The project is concerned with the simultaneous, collaborative development, modeling and representation of architecture in virtual spaces, Sachs said. The aim was to intensify cooperation and interaction between the students and to establish them in the teaching by using innovative operating interface and projection technologies .
"My greatest motivation is to provide students with the basis and the creative approach to digital methods and methods of work, and to enable them to work with innovative, open, and reflective technologies," Sachs explains, "I am convinced that The intertwining of teaching and practice is an indispensable factor in digital development processes. Students can thereby consolidate their knowledge, test innovation, and ultimately build contacts to the future labor market. "